BT Young Scientist
BT Young Scientist is the country's most famous Science Competition amongst secondary school students. Each year there are over 2000 entries with 550 of these entries progressing to the National Finals which takes place over 3days in the RDS in Dublin. Over the years St. Brigid's have had many projects which have made it to these National Finals while also picking up some awards.

2021 Vertical Farming By Ali O Donoghue and Eilis Mullane   (Award Won-Highly Commended)
This project aimed to determine whether it would be feasible and beneficial, for our school (as a medium sized secondary school), to practice vertical farming as a way of providing plants for teaching, for some school food, and to help make our school a healthier place for all.

In addition to all the above, they were invited to present their project to "Self Help Africa" as an investigation into modern food producing practices that could help to alleviate hunger in third world countries.

The girls also obtained " The Young Environmentalist" award and the overall " Junior Science" award at Sc ifest 2020.
2019 'An Investigation into the Presence of Microplastics in Freshwater Lakes Surrounding Killarney'.
By: Niamh Coffey, Claire Joy and Abby O Leary(Awarded-Display Award)

This project was 'An Investigation into the Presence of Microplastics in Freshwater Lakes Surrounding Killarney'. Seven separate bodies of water in and around Killarney were tested to see are Microplastics present. The girls formed and interest in this area as there has been a lot of research into Microplastics in the sea, but not in Freshwater. During the project the students had the opportunity to work with IT Tralee to separate and analyse the particles using TGA-IR, along with, FTIR and SEM/EDAX machines to generate their results.
Formula 1 in Schools Competition
In 2021 St. Brigid's had two teams that reached the National Finals of the F1 in schools Competition. The two teams were called "Team Vroom" and "Team Mario".
Team Mario consisting of Meadhbh Bennet, Kate Donoghue, Alanna Brady and Abbie Daly got nominated in three categories "Best Verbal Presentation", "Women in Engineering" and won the "Best Communicators prize".
Team Vroom which consisted of Ilona Sheehan, Kayla Byrne, Ella Galvin and Grace Daly got nominated in the "Best Communicators" category and won the "Women in Engineering" prize and also picked up an award for being placed Top 10 overall in the competition.
This competition is the fastest, most exciting STEM competition for secondary school students! Here the students learned how to design, race and build their own miniature Formula 1 car.
Each team's aim was to design, build and race the fastest and most-efficient Formula One car of the future, powered by compressed gas cylinders. Each team found sponsorship to fund their development, managed their brand and partnerships, learned how to build and test prototype cars, analysed their performance and ultimately raced their very own car.
SciFest
SciFest is the largest second-level STEM fair held in Ireland, providing a platform for students to showcase project work in all areas of Science, Technology, Maths and Engineering.
It is hosted locally in the IT Tralee (now known as MTU Tralee) 
This Regional fair often provides a steppingstone for students to the larger BT Young Scientist competition and serves to give students some feedback from judges as to how they can improve or broaden the scope of their project work to compete on a National level.
St. Brigid's students have had considerable success in Scifest; In 2022 we  snapped up the Junior Science Award and the overall Young Environmentalist award.
2023
Their project 'My Carbon Buddy' won the Business Excellence Institute Award. Abbie O Sullivan & Keira Geaney worked hard to develop an app that can track your daily carbon usage & levels of sustainability.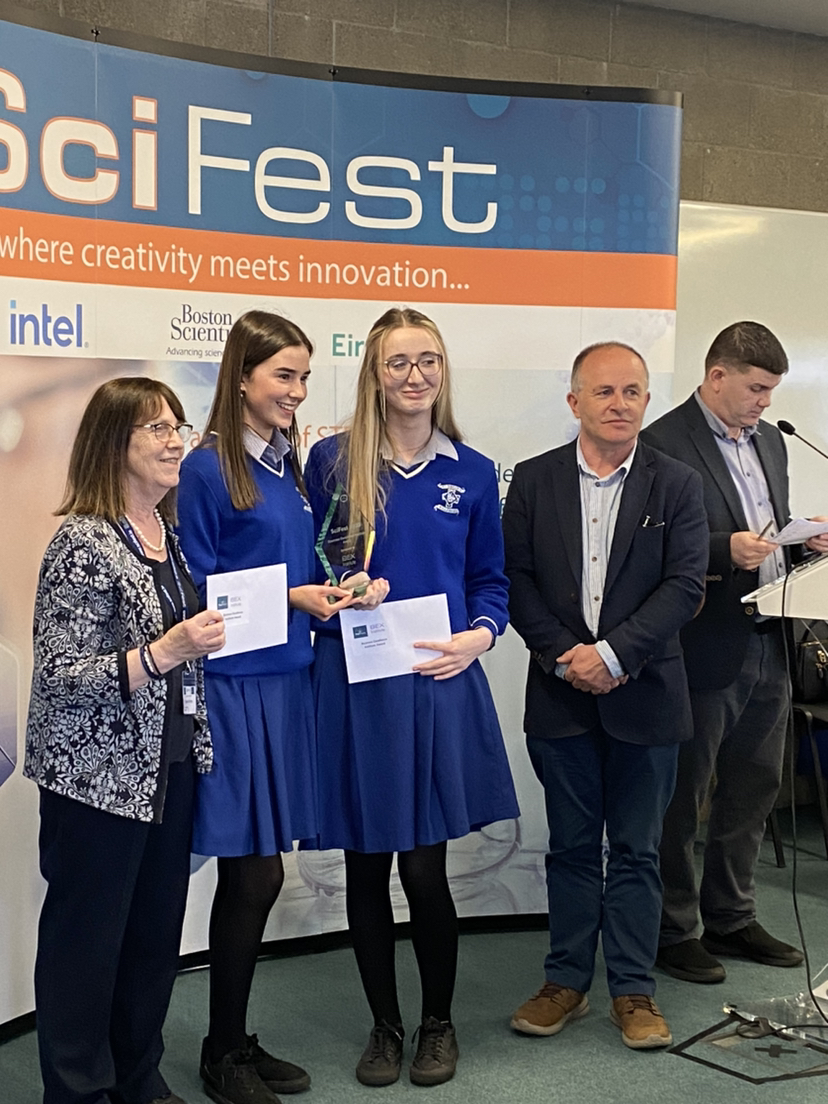 ECO UNESCO Young Environmentalist 
2023
Five TY groups travelled to Dublin in May to compete in the Young Environmentalist finals. This year,279 groups entered the competition and 104 groups  advanced to the finals, which is a remarkable accomplishment in itself for these five groups. A special mention to one group who were awarded "Highly Commended" in the Senior Food Waste category. This group were made up of Orianne McGillycuddy,Sarah Copper, Emily Brosnan and Aoileann Ní Dhubháin
2022
TY students had great success in the 2022 ECO UNESCO Finals winning 3 senior category awards and 2 Highly Commended awards.  The five successful groups included: Senior Eco Art and Design Winners: Abbie O Sullivan, Eabha Rudden, Anna Moynihan and Lauren O Mahony with their project "Save the Bees" Senior Waste Winners : Aoife O Donoghue, Emma Horan, Molly O Donoghue, Saoirse O Brien and Jessica Flynn with their project title "Lesser Litter" Senior Local to Global Winners: Eilis Mullane and Ali O Donoghue with their project titled " Where is our food sourced?" We also had two groups that were Highly Commended in the Senior Section of the competition and they were Ava O Mahony, Juliet Copper and Sarah Pigott for their project "Beauty and the Butterfly" and Jessica Fuller, Helen O Connor and Meabh O Sullivan Darcy for their project "Save the Waves"